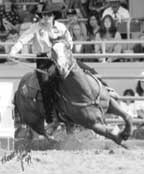 FRENCH FLASH HAWK 'Bozo'
Kristie Peterson's 5-time WPRA World Champion Barrel Horse & Five-Time AQHA/PRCA Barrel Racing Horse of the Year!
CASEY'S LORD
Ridden by Marlene McRae in her successful bid for the 2000 NFR.
LOVE A LORD
AQHA Superior Barrel Horse, 2000 All-American Quarter Horse Congress Youth Barrel Champion – ridden by Rachel Moore.
FRENCHMANS GUY
Arena champion & multiple national Leading Sire of barrel horses - owned by Bill and Deb Myers. Sire of outstanding barrel futurity horses including SX Frenchmans Vanila – the nation's first Triple Crown Barrel Racing Winner!
LADY LORD
NFR horse and winner of over $70,000 in WPRA barrel racing.
PLUS MANY ARENA AND RACE TRACK WINNERS!
All these great horses trace back to one great mare - CASEY'S LADY LOVE – a mare owned by Frances and the late James Loiseau.
Frances Loiseau, along with John & Lis (Loiseau) Hollmann, assisted by Val Loiseau, maintain a select band of broodmares. These daughters and granddaughters of Casey's Lady Love are cared for in the beautiful Black Hills on the Hollmann's ranch south of Hot Springs, South Dakota. We offer a few select horses for sale each year so visit our FOR SALE PAGE for a current listing or contact us directly.
We are honored to have you visit our website. We are proud to display pictures of our beloved broodmares and hope you enjoy seeing our current offering of sale horses.